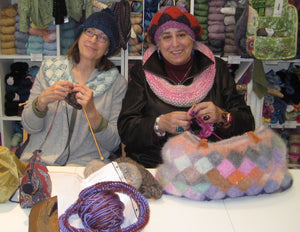 Class Policy
Masks are optional during class, unless an Atelier teacher requests they be worn.
We limit the quantity of students per class. We keep doors open and/or HEPA HVAC running. Air purifiers are also running.
Class sizes are limited. Payment is required at time of registration for all classes.
Class supplies should be purchased before the first class. Please come to class prepared.
Classes may be re-scheduled with 10 days notice.

Refunds are not given for classes unless cancelled by Atelier.

Atelier is not responsible for classes missed by students. If a student misses a class, they are welcome to schedule a workshop or private lesson make-up for an additional fee.

Any class with fewer than four students enrolled three days before the first class meeting will most likely be cancelled. Fees will be refunded.

Please do not bring food or drinks other than water to class.
Students must be at least 10 years old to attend classes. For a student younger than 10 yrs old, private lessons are available.
Our Knitting & Crochet Workshop offers problem solving, inspiration, and ongoing help for students of all skill levels. We've designed the workshop to be place to learn new techniques, work on the project of your choice, or simply have 2 hours of uninterrupted, guided knitting time. Each student works at their own pace, getting help from the instructor as needed. Expect to find inspiration, develop your skill set, and make new friends!
Our workshop teachers are experts in knitting and crochet. If you'd like to learn beginning crochet, please let us know when signing up. Workshop classes fill quickly so please call in advance to reserve your spot.

$25 per class or a month of 4 classes for $100

San Francisco
SEPTEMBER
1. 9-11am, Tuesdays, September 12, 19, 26 and Oct 3
2. 9–11am, Wednesdays, Sept 13, 20, 27 & Oct 4
3. 9-11am, Thursdays, September 14, 21, 28 & Oct 5
4. 7-9pm, Thursdays, September 14, 21, 28 & Oct 5
5. 9am-11am, Fridays, September 15, 22, 29 & Oct 6
OCTOBER
6. 9-11am, Tuesdays, October 10, 17, 24 and 31
7. 9–11am, Wednesdays, October 11, 18, 25 and Nov 1
8. 9-11am, Thursdays, October 12, 19, 26 and 2
9. 7-9pm, Thursdays, October 12, 19, 26 and 2
10. 9-11am, Fridays, October 13, 20, 27 and Nov 3
NOVEMBER
11. 9-11am, Tuesdays, November 7, 14, 21 and 28
12. 9–11am, Wednesdays, November 8, 15, 22 and 29
13. 9-11am, Thursdays, November 9, 16, 30 and Dec 7
14. 7-9pm, Thursdays, November 9, 16, 30 and Dec 7
15. 9am-11am, Fridays, November 10, 17, 24 and Dec 1
DECEMBER
16. 9-11am, Tuesdays, December 5, 12, 19 and Jan 2
17. 9–11am, Wednesdays, December 6, 13, 20 and Jan 3
18. 9-11am, Thursdays, December 14, 21, 4 ($75)
19. 7-9pm, Thursdays, December 14, 21, 4 ($75)
20. 9-11am, Fridays, December 8, 15, 22 and Jan 5
JANUARY
21. 9-11am, Tuesdays, January 9, 16, 23 and 30
22. 9–11am, Wednesdays, January 10, 17, 24 and 31
23. 9-11am, Thursdays, January 11, 18, 25 and Feb 1
24. 7-9pm, Thursdays, January 11, 18, 25 and Feb 1
25. 9-11am, Saturdays, January 13, 20, 27 and Feb 3
26. 9am-11am, Fridays, January 12, 19, 26 and Feb 2
FEBRUARY
27. 9-11am, Tuesdays, February 6, 13, 20 and 27
28. 9–11am, Wednesdays, February 7, 14, 21 and 28
29. 9-11am, Thursdays, February 8, 15, 22 and 29
30. 7-9pm, Thursdays, February 8, 15, 22 and 29
31. 9-11am, Fridays, February 9, 16, 23 and Mar 1
MARCH
32. 9-11am, Tuesdays, March 5, 12, 19 and 26
33. 9–11am, Wednesdays, March 6, 13, 20 and 27
34. 9-11am, Thursdays, March 7, 14, 21 and 28
35. 7-9pm, Thursdays, March 7, 14, 21 and 28
36. 9am-11am, Fridays March 8, 15, 22 and 29
Please call 415-771-1550 to sign up for San Francisco
San Rafael
SEPTEMBER
31. 10am-12pm, Sundays, Sept 10, 17, 24 and Oct 1
32. 9-11am, Mondays, Sept 11, 18, 25 and Oct 2
33. 9-11am, Wednesdays, Sept 13, 20, 27 and Oct 4
34. 7-9pm, Wednesdays, Sept 13, 20, 27 and Oct 4
35. 9-11am, Fridays, Sept 15, 22, 29 and Oct 6
OCTOBER
6. 10am-12pm, Sundays, October 8, 15, 22 and 29
7. 9-11am, Mondays, October 9, 16, 23 and 30
8. 9–11am, Wednesdays, October 11, 18, 25 and Nov 1
9. 7-9pm, Wednesdays, October 11, 18, 25 and Nov 1
10. 9-11am, Fridays, October 13, 20, 27 and Nov 3
NOVEMBER
11. 10am-12pm, Sundays, November 5, 12, 19 and 26
12. 9-11am, Mondays, November 6, 13, 20 and 27
13. 9–11am, Wednesdays, November 8, 15, 22 and 29
14. 7-9pm, Wednesdays, November 8, 15, 22 and 29
15. 9-11am, Fridays, November 10, 17, 24 and Dec 1
DECEMBER
16. 10am-12pm, Sundays, December 3, 10, 17 and 24
17. 9-11am, Mondays, December 4, 11 and 18 ($75)
18. 9–11am, Wednesdays, December 6, 13, 20 and Jan 3
19. 7-9pm, Wednesdays, December 6, 13, 20 and Jan 3
20. 9-11am, Fridays, December 8, 15, 22 and Jan 5
JANUARY
21. 10am-12pm, Sundays, January 7, 14, 21 and 28
22. 9-11am, Mondays, January 8, 15, 22 and 29
23. 9–11am, Wednesdays, January 10, 17, 24 and 31
24. 7-9pm, Wednesdays, January 10, 17, 24 and 31
25. 9-11am, Fridays, January 12, 19, 26 and Feb 2
FEBRUARY
26. 10am-12pm, Sundays, February 4, 11, 18 and 25
27. 9-11am, Mondays, February 5, 12, 19 and 26
28. 9–11am, Wednesdays, February 7, 14, 21 and 28
29. 7-9pm, Wednesdays, February 7, 14, 21 and 28
30. 9-11am, Fridays, February 9, 16, 23 and Mar 1
MARCH
31. 10am-12pm, Sundays, March 3, 10, 17 and 24
32. 9-11am, Mondays, March 4, 11, 18 and 25
33. 9–11am, Wednesdays, March 6, 13, 20 and 27
34. 7-9pm, Wednesdays, March 6, 13, 20 and 27
35. 9-11am, Fridays, March 8, 15, 22 and 29
Please call 415-256-9618 to sign up for San Rafael